Bike Touring is a lot of fun, but it doesn't all have to be about cycling. Many bike tourers have taken to the roads to experience more than just the wind in their hair and go on a gastronomy tour. What better way to experience a country than to ride, eat, and drink your way through it? In this article, we'll tell you about some amazing European destinations for a cycling wine tour and what makes them so special.
Pairing Cycling and Wine Tasting
We believe nothing goes down better after a long day of cycling than a glass of wine. A wine region isn't just a place for wine tastings. It's also a great place for cycling trips. They are typically excellent places to cycle as traffic-free roads and beautiful scenery often surrounds them.
Food and drink always tastes better after a bike ride, and pairing some of the best wine regions with that taste appreciation is an excellent way to get the most out of local wine tastings. When you go to places, it's about embracing what a destination has to offer and when in wine country, you drink great wine.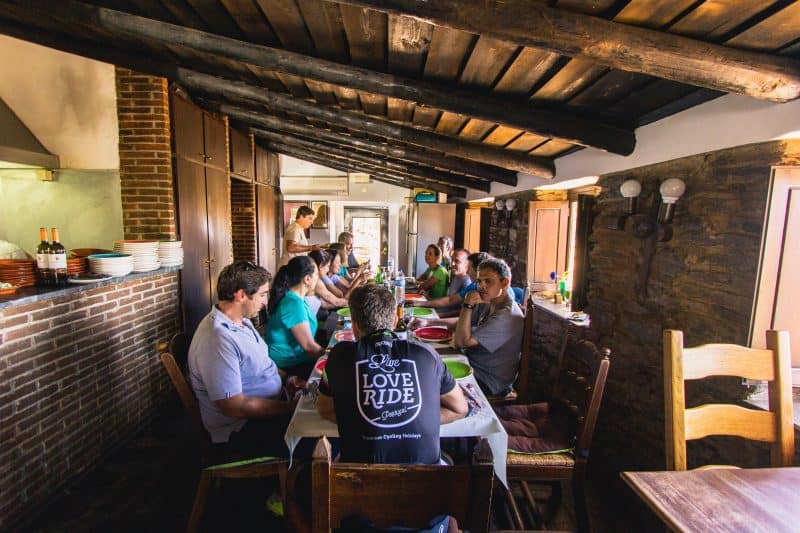 What do we look for in a cycling and wine destination?
It's important to know what you're looking for when it comes to the right destination for your bike tour in Europe. Here's what we believe sets the destination above others.
Easy to get to
Great Cycling Roads
Lots of Wine Tasting
Good weather
Friendly Locals
Douro valley, Portugal
Portugal is known for not just great cycling, but it is also famous for making a pretty special wine. The Douro River National Park is an incredible place to visit. Being a UNESCO world heritage site, it's protected because of its history and its beauty. The region starts in the historic city of Porto, which is one of the oldest cities in Europe. It's surrounded by medieval villages, which you will be lucky enough to cycle through.
The region is famous for Port wine. It's a divine sweet taste and is typically served as a dessert wine. They have been refining the grapes for several century, and many people travel to the region to taste the incredible drink. The best way to enjoy the region is by watching the Rabelo boats deliver the wine to Porto, so that they can age in win barrels, while enjoying the famous local smoked meats after a long day of cycling. If you're looking for a great tour in the region, check out the link below.
La Rioja, Spain
Spain's wine regions are some of the most incredible in the world. The Basque Country is well sort after place for cycling and enjoying the local wines. As far as riding goes, you have quiet, smooth roads with so much history to enjoy. In the Bilbao region of Spain, you don't just get to enjoy the mountains, but you also get the privilege of being next to the coast as well. The cycling is great and works for all abilities. If you're fond of a climb or two, this is a great region to explore.
When it comes to food and wine here, you are spoilt for choice. You have over 500 wineries to choose from and multiple options as far as a wine museum tour goes. It's internationally known for its high quality wine which you have a huge variety to choose from. Famous wines such as La Rioja Alta, Viña Ardanza Reserva and Bodegas Corral, Los Corrales de Moncalvillo Maturana Tinta. You will not be disappointed with the taste of this region and many people regularly return. If you're looking for a great tour, check out the link below.
Alentejo Portugal
We're back in Portugal, but this time we're heading towards Lisbon. Alentejo is full of rich millennial history, culture, great cycling, and phenomenal wines. Cycling here is an incredible experience. The smooth rolling hills, the incredible views as you go from whitewashed villages to medieval castles. Cycling in Portugal is still an untouched gem, and they are seeing more and more cyclists every year. The roads are traffic free, and the atmosphere is great as cycling is the thing to do here.
There's only one thing in Alentejo that matches the quality of the cycling and that is the food and drink. The local cuisine is incredible and paired with the great wine tasting, it's the perfect way to enjoy Portugal. Many incredible wines come out of this region. The one you must taste is the white Quinta do Carmo. The best way to enjoy this region is by cycling through it and experiencing some of the local vineyards tours. Visiting a cellar has never been so appealing. If you're looking for a great tour, check out the link below.
La Loire Valley, France
The Loire Valley is a very popular region for not just wine lovers but also cyclists. It has one of the most incredible routes called the La Loire à vélo. This 900km route runs alongside the Loire Valley River, passes through medieval towns and villages, and boosts some of the most incredible Chateaus in the world, such as Château de Chambord, which was used in the Beauty and the Beast film. The cycle route is quiet, beautiful, and perfect for all abilities to use.
Then we come to the wine and food. All you will find in the Loire Valley is amazing local produce and excellent wines. The Loire Valley is known for its incredible Sauvignon Blanc, which is one of the most popular white wines in the world. The region is also known for incredible food, such as the Beurre Blanc paired with fresh fish. The best way to enjoy this region is to hop from town to town, enjoying visiting chateaus and wineries.
Chianti Italy
In the hills of Tuscany, you will find Chianti. Not far from Florence this region is a perfect way to get miles in and enjoy some great food and wine. As far as wine regions go, this is one of Italy's best. Cycling is great here, and although a fairly hilly place, the incredible views, quiet roads, and fast downhills make up for the hard work. There's a huge amount of roads to choose from, and the locals appreciate cyclists. Many riders flock here for the famous Giro de Italia stage, which is very popular for road cyclists.
When you have cycling to do, you require extra calories, and what better way to get them in than Italian food? The region has incredible pizza, pasta, and salads which will excite your taste buds, alongside some amazing wines such as the 2017 Chianti Classico Annata, a medium bodied wine with incredible aromas of cherry and currant. Although many people think of Rome when they consider Italy, the Tuscany region has much more to offer, with over 300 estates where wine is produced and a huge amount of variety of local food on offer.
Tips for Cycling in Wine Country
When cycling in a wine region, it's easy to get it wrong and not make the most out of your holidays to make the most out of it, here are our top tips.
It's easy to miss out on great places when exploring a region without knowing what to look for. Investing in a guide or even getting some information goes a long way to ensure you see everything that makes a place special.
We recommend drinking in moderation. Having too much Pinot Noir feels like a good idea at the time, but it's easy to regret it the next day when not feeling too well. Wine always tastes best in small doses.
Don't worry about your Fitness
Before a wine region cycling tour, many people tend to worry about their fitness and if they will be able to handle the routes. You shouldn't. We highly recommend if you are unsure to hire an electric bike. You don't have to use the assistance, but it's there in case you need it.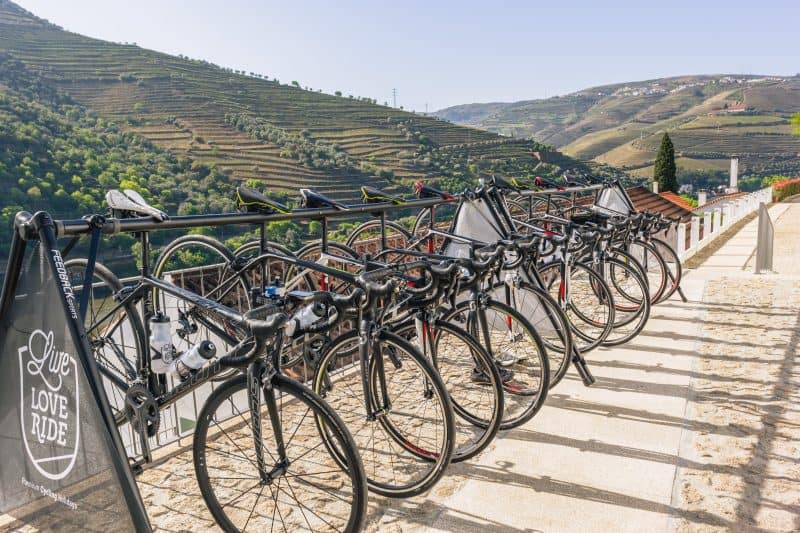 Conclusion
Pairing a wine tasting holiday with a cycling tour is an excellent way not just to enjoy a beautiful region but also to appreciate the smell and taste of a region. What makes it even better is getting some exercise and earning your treats. The combination is becoming very popular recently, and we highly recommend it to anyone.
Want to join one of our bike tours? Contact us on of the form below: